Assisi Pet Care relaunches Hollings dog treats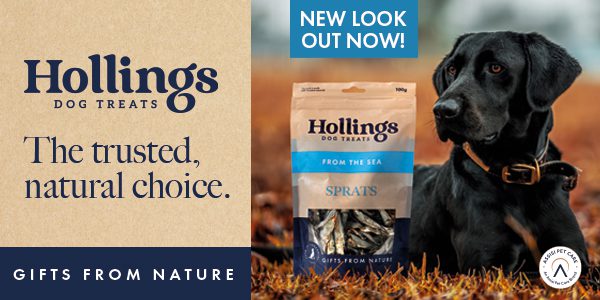 Hollings has been at the forefront of natural dog treats for over 40 years, with a philosophy of working with nature, minimizing waste and doing what's best for the country's dogs – in providing natural and tasty dog ​​treats.
More and more dog owners are looking to feed their dogs natural products, no matter how unappetizing they may seem to us as pet parents. These owners turn to heritage brands they can trust to do the right thing and take the worry and worry away.
This summer, the Hollings brand will be updated to reflect the needs of today's owners and buyers. An eye-catching and cohesive new design connects to the brand's natural credentials and the introduction of clear categories demonstrates its understanding of what today's dog owners are looking for.
The fixture of natural dog treats is busy and confusing at times. Owners want to know what they're buying and whether it's good for their dog, but many have little time to spend debating what's what.
By introducing clear categories, shoppers will easily navigate the brand, focusing on the area they are looking for. Once there, easy-to-understand icons make the final decision easier and more reassuring. Overall, these improvements make the treat-shopping experience less confusing and more informative.
It's not just the design that has been updated, the change in packaging material demonstrates the company's commitment to moving towards a more sustainable future without compromising the quality of products delivered to retailers and ultimately to the dogs of the nation. The range uses a combination of packaging materials that are either recyclable or made with recycled content, which is clearly marked on the packaging.
Interest in the brand is growing. For the first time in its history, Hollings earned a national listing in the grocery channel, helping to raise the profile of natural dog treats with the weekly grocery shopper.
The new look is supported throughout the summer by consumer advertising.
Hollings was the first brand acquisition by Pet Care seat. Since then, Hollings has experienced double-digit organic growth. This relaunch is a key tool in demonstrating Assisi's commitment to growing both its brand and the pet care industry as a whole.